A global thought leader in the hospitality and travel industry, Vikram Singh is the new VP, hotel demand generation for The Rainmaker Group. In his new position, he is responsible for the formulation and execution of Rainmaker's demand generation strategy for the hospitality industry.
|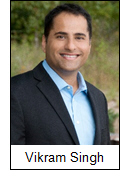 According to Rainmaker President Tammy Farley, "Vikram is one of the genuine stars in our industry and a natural leader, whose vast knowledge in hospitality and technology is matched by the positive force of his personality. We are truly excited to put his insights and leadership to work for Rainmaker."
Before joining Rainmaker, Singh co-founded Evision Worldwide, delivering portfolio-wide audits, asset turnaround strategies, and other high-level consulting services to real estate investment funds and property management groups such as Starwood Capital, MSD Capital, and Highgate Holdings. His online revenue optimization strategies have helped power some of the biggest and most successful hotel equity turnaround deals in the last decade.
Singh previously worked in international technology sales in San Francisco – honing his skills in online revenue, distribution, and optimization technology services while increasing revenue for clients across the globe. He originally moved to San Francisco with Pan Pacific Hotels & Resorts, where he gained experience in operations, ecommerce and revenue management. A graduate of IHM Mumbai, Singh launched his career with the Taj Group of Hotels, Resorts & Palaces in India.
Singh is a frequently requested speaker at industry conferences worldwide, and his emphasis on action-oriented strategies and engaging style make him a perennial favorite of audience members. Former hosts include the U.S. Department of Commerce, Travel Distribution World Asia, Arabian Travel Market, and Airbnb. He has been featured in the American Express/American Hotel & Lodging Association Educational Series for several years.
Singh writes the popular hospitality and travel marketing strategy blog www.wordsofvikram.com. He enjoys travel, volunteering as a visiting professor at universities, and staying current on emerging technologies.
About Rainmaker
Headquartered in Alpharetta, Georgia, Rainmaker is the premier provider of profit optimization and demand-cycle solutions to the hospitality and multifamily housing industries. Since its founding in 1998, the company has focused solely on delivering the highest revenue returns possible through the development and cultivation of a suite of products and consulting services designed to streamline operational efficiencies, enhance revenue optimization processes, improve lead performance and generate greater demand. Recognized as one of the top privately held companies in the United States, Rainmaker has been named to Inc. 5000's Fastest Growing Privately Held Companies for the last five years and was named to the Atlanta Business Chronicle's List of the 100 Fastest Growing Companies in Atlanta. To learn more about Rainmaker and its suite of profit and demand optimization solutions, please visit www.LetItRain.com, and follow Rainmaker on Facebook, LinkedIn and Twitter.