Orlando, FL based Magic Development has selected SPI Software's Enterprise Suite for its luxurious new project on the steps of Disney. Magic's Orlando project brings together a powerful intersection of style, design and location.
|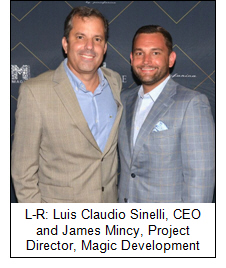 "We are excited to bring SPI's shared ownership solution to our rapidly growing project," says James Mincy, Magic Place Project Director. "The strong velocity of sales in our multiphase project requires maximum efficiency in the daily operations. With SPI's software solutions we can dedicate all of our time and attention to satisfying our growing owner base."
"SPI is very proud to partner with the Magic Development team," says Richard Corso, SPI's CEO. "We're looking forward to assisting their already successful organization with technology solutions that support Magic's vision and mission."
About SPI Software 
SPI Software provides resort developers and operators of timeshare, vacation clubs and mixed use properties with Web-based and Microsoft.NET-based software solutions. SPI's flagship software product, Orange, includes modules for marketing, sales, property management (PMS), finance, maintenance fee and receivables servicing, centralized reservations(CRS), owner services, advanced reporting and website applications.
Founded in 1978 and based in Miami, FL, SPI (www.spiinc.com) may be reached at 305-858-9505, or info@spiinc.com.
About Magic Development
Magic Development combines innovative ideas, unique design and a rigorous quality standard. More than 10 years' international real estate market and with projects totaling $3 billion, Magic is fulfilling the high demand luxury market niche. The exceptional standards of quality, present in all projects and administration, is also applied in the selection of renowned professionals in various specialties involved in a single purpose: customer satisfaction and success of the enterprise. For more information, please visit the Magic Development website (www.magicdevelopment.com) or contact James Mincy, Magic Place Project Director, (james@magicdevelopment.com).